Bahrain Bond Rally Fizzles Out as Gulf Bailout Remains Elusive
Gulf neighbors said to be waiting for Bahrain's reform plan

Spreads on debt will remain wide with talks opaque: BMO Global
Bondholders' relief over a Gulf pledge to prop up Bahrain's struggling economy has given way to anxiety now that three weeks have passed without any sign aid is on the way.
Saudi Arabia, Kuwait and the United Arab Emirates are waiting for Bahrain to submit its proposal for economic reforms before giving any money to the cash-strapped nation, according to three people familiar with the issue, who declined to be identified because of the sensitivity of the discussions. While other Gulf nations scrambled to cope with falling oil prices, Bahrain has been slow to implement policy changes and attract foreign investment.
Its rich neighbors pledged last month to consider all options to reduce Bahrain's ballooning debt and shore up its foreign-exchange reserves to help avoid a currency devaluation. That eased concerns of a default and fueled a record jump in Bahrain's dollar-denominated bonds. The rally has fizzled in the past week as investors look for signs the deal will hold.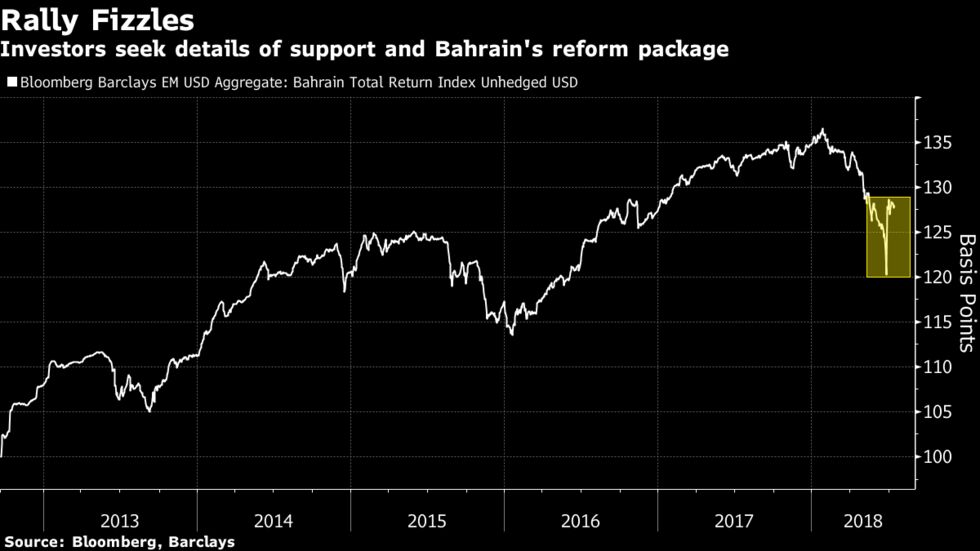 "Investors expect clear details, and most importantly, the willingness of the Bahraini government to do something to tackle fiscal and debt problems," said Sergey Dergachev, who helps oversee about $14 billion in assets, including the kingdom's dollar bonds, at Union Investment Privatfonds in Frankfurt. "So far, details and conditionalities associated with this rescue package are vague."
The performance of Bahrain's debt will depend on the nation's "political willingness to present a clear picture to investors" of how it will tackle its fiscal and debt woes, Dergachev said. Bloomberg reported last year that the three Gulf countries had asked Bahraini authorities to do more to bring finances under control before receiving aid.
Events around the world are adding to the urgency. Bahrain's bonds were the hardest hit in the Gulf this year as the roll-back of crisis-era stimulus worldwide and the specter of a global trade war dent demand for riskier assets.
TCW Group Inc., which manages almost $200 billion, increased its holdings in Bahrain after the bonds were battered in late June, as the spreads are set to narrow again once there's clarity on the rescue package, said Brett Rowley, the Los Angeles-based managing director for emerging markets.
"Bahrain is too small to fail," Rowley said. "If Bahrain were allowed to default, investors would quickly look for the next vulnerable candidate. Given Bahrain's relatively low financing needs, it would cost Gulf Cooperation Council partners less to bailout Bahrain now than to pay higher yields when issuing regional debt down the road."
'Extremely Opaque'
The yield on the nation's 7 percent bonds due in 2028 have risen 10 basis points since early last week to 8.70 percent at 9:27 a.m. in New York Wednesday. It narrowed by 83 basis points — a record drop for the yield on a closing basis — on June 27, when Bahrain's allies pledged their support.
The spreads on Bahrain's bonds will remain "relatively wide," said Jonathan Mann, London-based head of emerging market debt at BMO Global Asset Management, which manages $260 billion. "The problem at the moment is the bailout discussion is extremely opaque," said Mann, whose fund doesn't hold the nation's securities. "No one really knows what's going on, so it's difficult to take a rational view on the investment."
Forwards on the dinar due over the next 12 months have risen about 40 percent since Friday to 192.50 in the offshore market, reflecting concern over the country's ability to maintain the currency's peg to the dollar.
IMF View
In a report on Sunday, the International Monetary Fund said Bahrain needs a comprehensive package of reforms to reduce its fiscal deficits over the medium term.
The kingdom will need to emulate some of its neighbors in implementing tax reforms, such as the introduction of value-added tax, and bring down spending, according to HSBC Holdings Plc. And given how entrenched its fiscal woes are, it also needs support urgently from its regional allies, the bank said.
"Time is running short," Simon Williams and Razan Nasser, economists at HSBC, wrote in a report last week. "Given the pace at which its resources are being depleted, backing must be large and front loaded."
The Gulf's smallest economy has been relying on debt sales to finance budget and current-account deficits. It scrapped an offering in March after investors sought higher yields, but raised $1 billion from Islamic securities. The IMF expects the nation's debt to exceed 100 percent of economic output in 2019. Foreign-exchange assets held by the central bank dropped 14 percent to 668.6 million dinars ($1.77 billion) in May.
The kingdom has about $1.2 billion of debt to service in the next 12 months, said Abdul Kadir Hussain, the head of fixed income at Arqaam Capital, a Dubai-based investment bank.
Investors will probably get details of Bahrain's program at the end of the third quarter, at the earliest, he said.
The country hired investment bank Lazard Ltd. to advise on how to repair its strained public finances, people with knowledge of the matter said earlier this month.
"There will be volatility until the announcement of the plan comes through," Hussain said. "Given the fact that we believe the plan and support will come through, overall there is some value in the bonds, particularly in the 10-year part of the curve."