Bahraini and Emirati squads break Arab boycott in place since 1948 to enter eventTom Barnes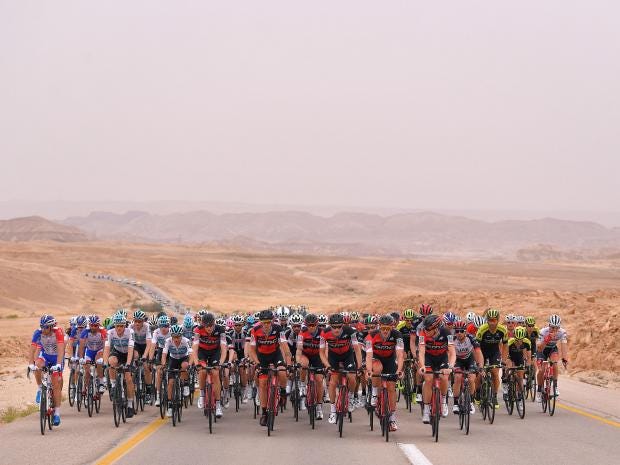 Palestinian authorities have reacted furiously after teams from the United Arab Emirates and Bahrain took part in the opening legs of the Giro d'Italia cycling race in Israel over the weekend.
The presence of teams from the two Gulf states in the prestigious cycling event broke the boycott of Israel which has been in place since the start of the Arab-Israeli conflict in 1948.
Israel hosted the opening three stages of this year's Giro, which has since moved on to its primary host nation of Italy.
In an unusually barbed statement aimed towards other Arab countries, the Palestinian Olympic Committee said their participation was "a stab in the back to the great sacrifices made by the Palestinian people".
None of the cyclists in either of the eight-man teams, Bahrain Merida and UAETeam Emirates, appeared to be Bahraini or Emirati citizens, according to profiles on the event's official website.
But, in a break with traditional Arab protocols on events in Israel, the riders wore jerseys emblazoned with national colours and brand names of state-owned sponsors, such as Emirates Airlines and the Bahrain Petroleum Company.
Neither team immediately responded to emailed enquiries relating to their participation.
Malak Hassan, founder of the Cycling Palestine club, condemned the move and said Israeli checkpoints barred her and fellow bike enthusiasts from travelling freely.
"We were shocked, Israel is trying to polish its image by hosting this race," she said.
"The UAE and Bahrain know a lot about our cause and there was no need for us to explain to them why they shouldn't take part," she added.
Individual Israel athletes have periodically participated in sporting events in Gulf Arab states, such as a tennis player at the QatarOpen in January.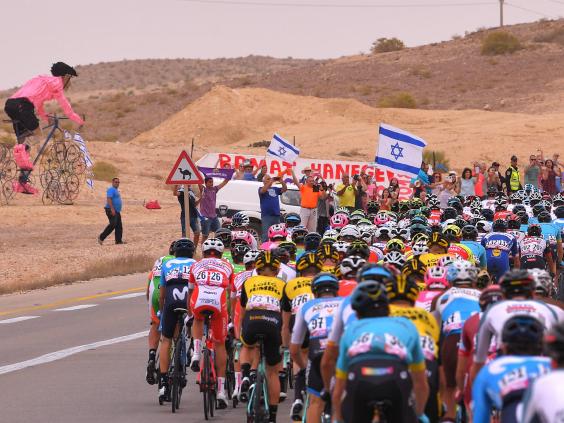 However, team participation and the display of flags have previously been rare.
"It's a mistake," said Abdullah al-Shayji, a professor at KuwaitUniversity on his Twitter account in response to the Gulf teams' appearances in Israel.
"Normalisation with the occupation entity should be rejected, no matter what form it takes."
The Gulf teams' participation in the race may signal thawing ties among the US-allied states, who share a common enemy in Iran, but drew some accusations that they were abandoning the Palestinian cause.
Along with most other Arab and Muslim nations, the two nations do not recognise Israel out of solidarity with Palestinians who seek a state in Gaza and the Israeli-occupied West Bank and East Jerusalem.
Saudi Arabia, the powerful main ally of the two smaller Gulf states, has been working closely with the United States on a new Middle East peace plan in a bid to solve the 70-year-old conflict as Israeli and Arab worries rise over Tehran's regional influence.
In November, an Israeli cabinet member disclosed covert contacts with Riyadh, a rare acknowledgement of long-rumoured secret dealings which the kingdom still denies.
Saudi Arabia's crown prince, Mohammed bin Salman, said in a published interview last month that Israelis were entitled to live peacefully on their own land, in a rare acknowledgement of Israel's right to exist by a senior Arab leader.